You have two options to use your domain with the peakhour service:
1. Point your A/CNAME records to Peakhour
While this is not the preferred option it does allow you to keep full control of your DNS and quickly migrate off the Peakhour service if you need to. The drawbacks are that you will not get the DNS speed advantages of our anycast network and we can't automatically migrate your IP address in the event of an attack on you site.
When you sign up for Peakhour we will allocate an IP address which can be located in your Peakhour dashboard. Navigate to your domain and then click on the DNS link in the sidebar. Your Peakhour IP will be displayed at the top of the page.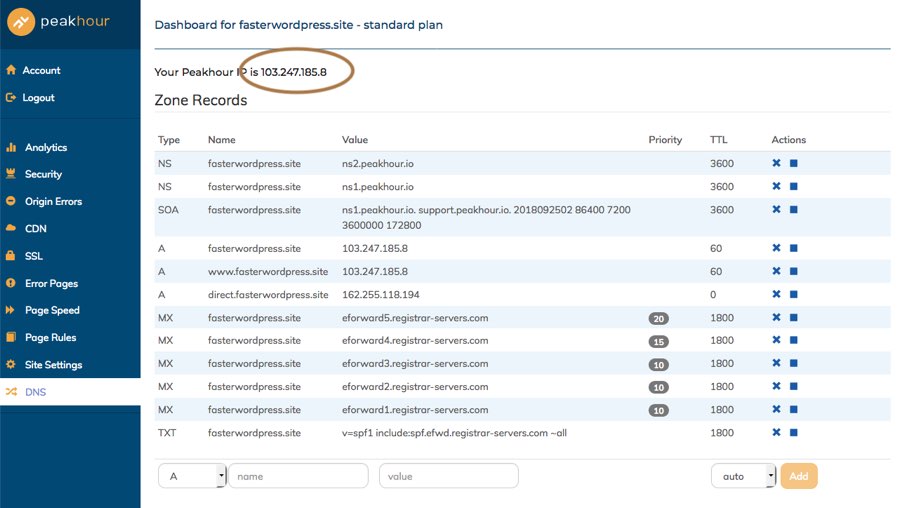 Once you have your Peakhour IP you can log in to your domain provider's control panel to edit your zone. You will need to change your root A record and www A record to point to your Peakhour IP. If you have the option to specify TTL (time to live) on your records then we recommend choosing a short period, eg 300s to allow you to quickly change IP addresses if required.
2. Delegate your domain to the Peakhour nameservers
By delegating your domain to the Peakhour nameservers you get the benefits of our Anycast DNS platform. This means when a client looks at your site for the first time they will be routed to a DNS server close to their location. If your site is hosted overseas this might save up to half a second load time the first time a user accesses your site. In the event of an attack on your site it will also allow us to quickly migrate your site to a different IP address.
Once you have delegated your domain you can update your zone records through the Peakhour DNS Interface.