Website Speed is Critical to Your Success
Poor performing websites will drive away potential customers and deliver them - and their money - to your competitors.
User Experience & Conversions
53% of users will abandon a site if it takes longer than 3 seconds to load. Studies consistently show that the faster your site loads, users are more likely to stay longer, look at more pages, and buy more. Don't leave money on the table - or worse - gift it to your competitors due to poor website performance.
Search Ranking
Search engines, like Google, look at site speed as a factor when ranking your website for search. If your website is running slowly, your search ranking is penalised, making it more difficult for people to find your content organically.
Google Adwords Performance
Page speed significantly contributes to the Quality Score, assigned by Google, to landing pages created for paid search ads. If your ad points to a page that is slow to load, this signals to Google a poor landing page experience. This may result in your ad showing less often (or not at all) and both your ad position and advertising costs being adversely affected.
Mobile Performance
Despite the higher bandwidths on offer in today's 4G & 5G mobile environments, network coverage, signal strength, congestion and latency all mean that website performance is still a critical consideration for user satisfaction and effective e-commerce.
Every 0.1s delay costs you money
Studies consistently show small delays have measurable impacts
If your site takes longer than 3 seconds to load up to 50% of your visitors might bounce, according to Google
Deloitte's 'Milliseconds make millions' report found just a 0.1s improvement in mobile site speed resulted in a 8.4% increase in retail conversions.
Every 100ms improvement in page load times resulted in up to a 1% increase in revenue for Walmart
a 100-millisecond delay in website load time can hurt conversion rates by 7 percent, according to Akamai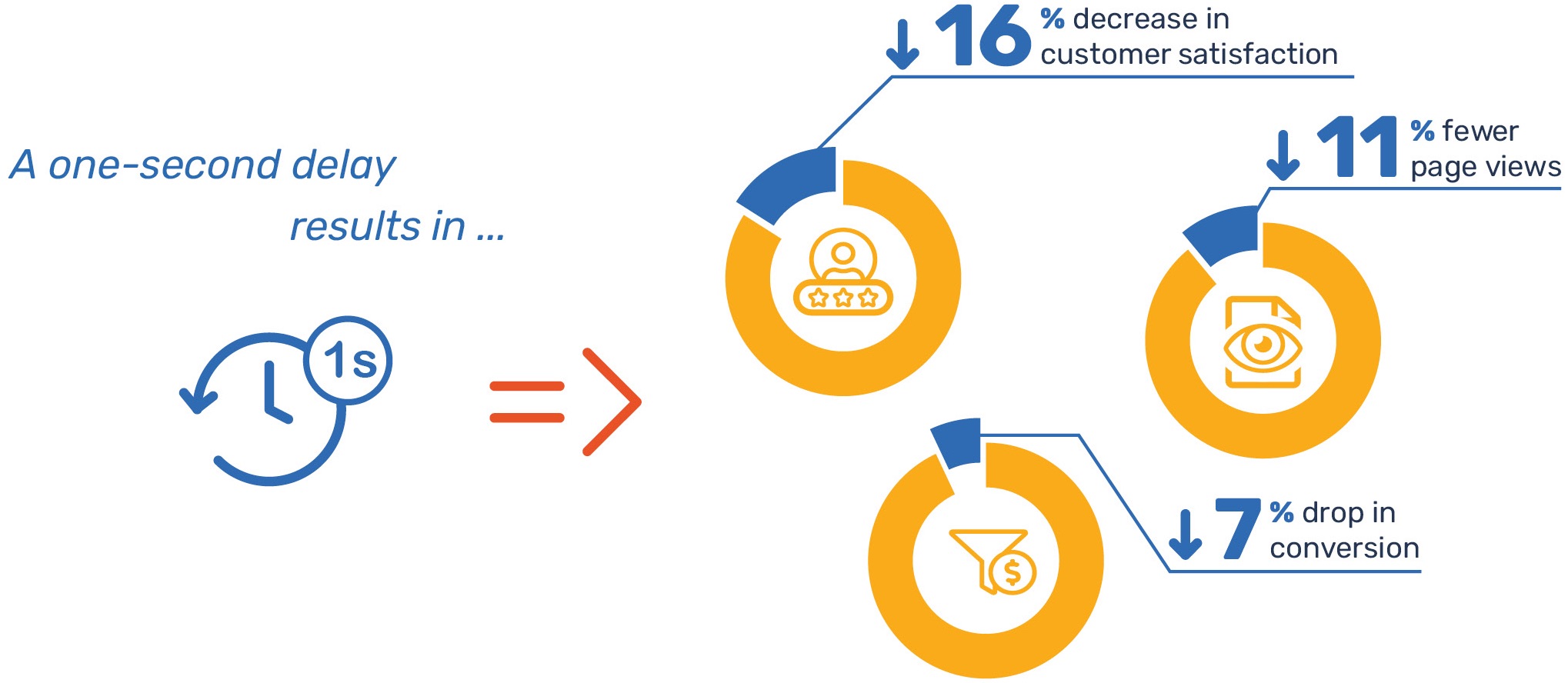 Source - Akamai online retail report 2017
"CDN+™" The Peakhour Advantage
Content Delivery Network (CDN) + Content Optimisation + Integrated Security + Simple Setup & Pricing
Peakhour enables your business to deliver world-class online performance to users anywhere around the world.
Your Website
Remains unchanged, just by making a simple, 5 minute DNS change, Peakhour can start accelerating and securing your site.
Cache
Optimised content is transparently cached on our global CDN eliminating latency, configure dynamic content caching using powerful edge rules to turbocharge your site and lower server utilisation.
Secure
Our Cloud WAF provides OWASP Top 10 protection along with application virtual patching. Our Bot Manager stops attacks before they reach your site, lowering server utilisation and increasing your ROI.
Peakhour's cheapest plan will give you a faster and secure website that improves rankings and brings more loyal users to you.
Try Peakhour Free
Talk to us