Peakhour integrates Google's Pagespeed module to optimise your website's resources. Settings for your site are available by clicking on the "Page Speed" link in your domain dashboard.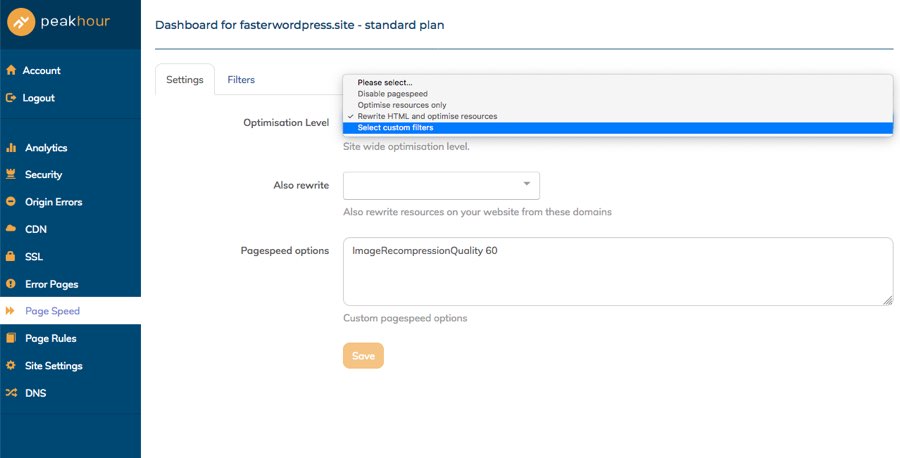 Settings
Optimisation Level
Pagespeed has many filters that can be applied to your website, it could be a bit overwhelming, luckily we've made two sensible presets:
Optimise Resources Only
By choosing this option PageSpeed will not alter HTML. It compresses and transcodes images, and minifies JavaScript and CSS. By avoiding changes to URL syntax and to HTML, the potential problem of user-written JavaScript encountering unexpected DOM elements is elimimated.
Depending on the origin site there can be significant reductions in transfer size with almost zero risk of page functionality breaking. The filters applied are:
rewrite_css
rewrite_javascript
rewrite_javascript_external
rewrite_javascript_inline
convert_jpeg_to_progressive
convert_png_to_jpeg
convert_jpeg_to_webp
recompress_images
recompress_jpeg
recompress_png
recompress_webp
convert_gif_to_png
strip_image_color_profile
strip_image_meta_data
jpeg_sampling

Rewrite HTML and optimise resources
This option will include everything from the Optimise Resources option and adds:
add_head
combine_css
combine_javascript
convert_meta_tags
extend_cache
fallback_rewrite_css_urls
flatten_css_imports
inline_css
inline_import_to_link
inline_javascript
rewrite_css
rewrite_images
rewrite_javascript
rewrite_style_attributes_with_url

These filters carry a small risk of breaking website functionality so its worth testing your site thoroughly before permanently enabling.
Also Rewrite
If your page includes resources from another domain, eg fonts.google.com, then you can enter the domain name here to enable pagespeed to also cache/rewrite content to further speed up your site.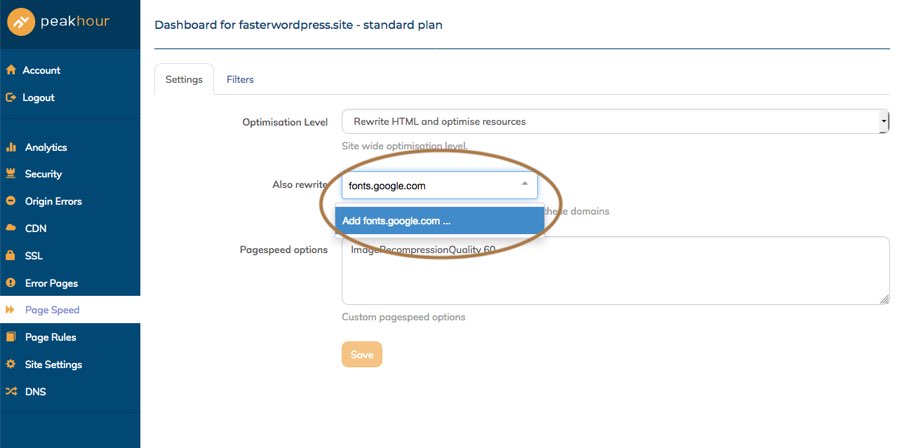 Pagespeed options
Pagespeed can further be customised using directives, enter one directive per line. These are very advanced options and are not generally recommended without the assistance of a Peakhour support person.
For more information on the available directives check out the mod pagespeed documentation.
Note that the official documentation presents two ways of making directives, eg:
ModPagespeedJpegQualityForSaveData 85 (for apache)
and
pagespeed JpegRecompressionQuality 85; (for nginx)
when entering the directive in the pagespeed options you can take the nginx format and remove pagespeed from the front, eg:
JpegRecompressionQuality 85
Filters
You may customise the pagespeed filters for your site by clicking on the Filters tab